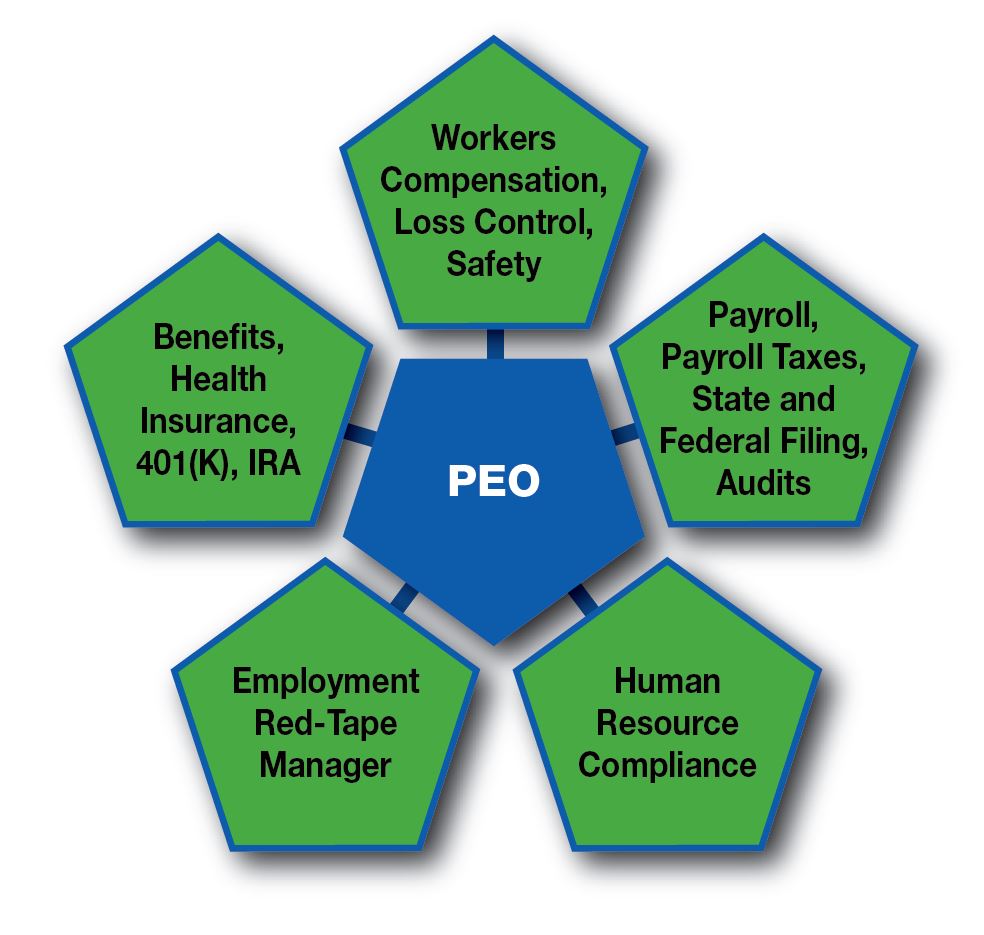 A Professional Employer Organization (PEO) can work with your company to provide comprehensive and affordable payroll, benefits and human resource serviecs through a business-to-business relationship called "co-employment."
Would you like to lower your cost for:
Workers Compensation
Health Benefits
Payroll
Would you like to stop worrying about:
Human Resources
Regulatory Compliance
Payroll Taxes
Perhaps a Professional Employer Organization is right for you.
What is a PEO?
A PEO provides comprehensive HR solutions for small businesses. Payroll, benefits, HR, tax administration, and regulatory compliance are some of the many services PEOs provide to small and growing businesses across the country.
Why a PEO?
By providing payroll, benefits, and HR services and assisting with compliance issues under state and federal law, PEOs allow small businesses to improve productivity and profitability,
to focus on their core mission, and to grow.
Through a PEO, the employees of small businesses gain access to big-business employee benefits such as: 401(k) plans; health, dental, life, and other insurance; dependent care; and other benefits they might not typically receive as employees of a small company.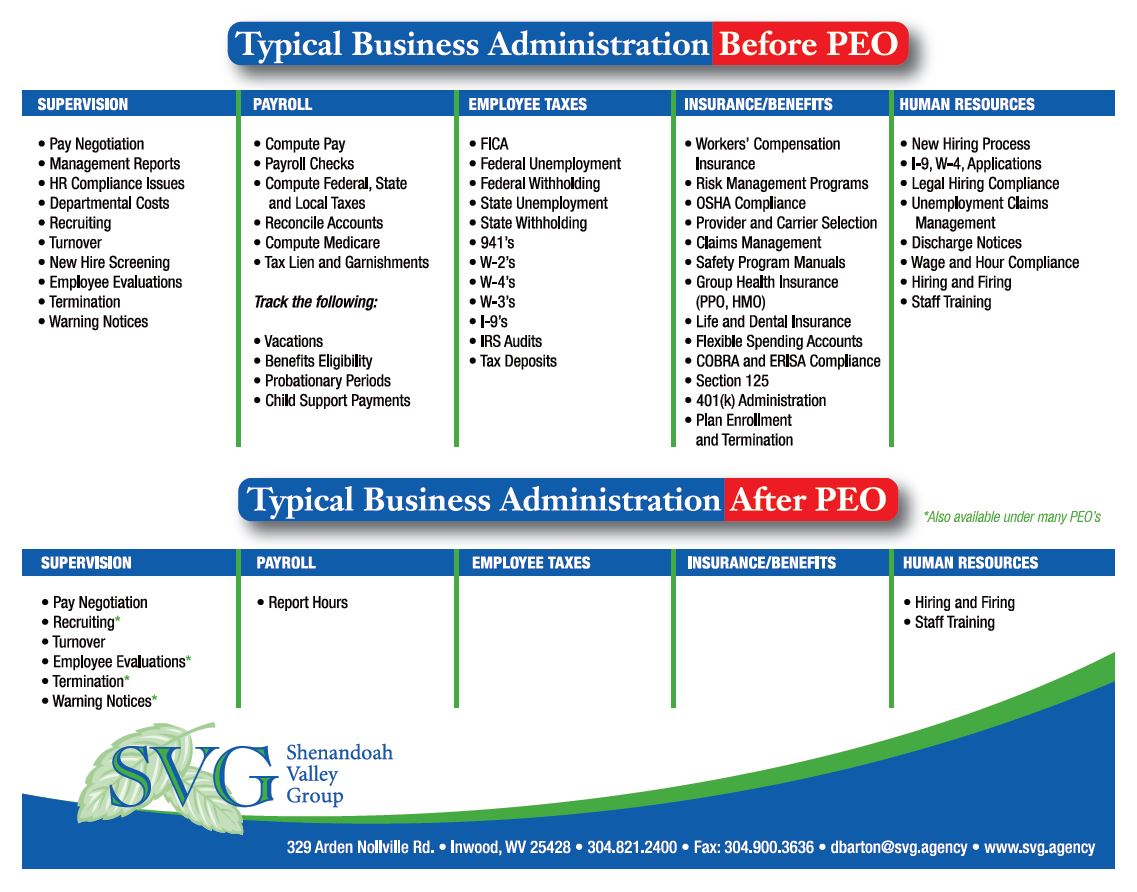 PEO and CO-Employment
What is Co-Employment?
The National Association of Professional Employer Organizations (NAPEO) defines co-employment as the contractual allocation and sharing of employer responsibilities between a PEO and its client. In a co-employment agreement, workers are technically employed by two separate entities: the business owner, or client employer, who controls their daily duties and core job functions; and the PEO, or co-employer, who handles personnel-related functions. Co-employers do not supply a workforce; they supply services and benefits to a client employer and its existing workforce. The client employer maintains control of all business decisions and operations while the co-employer manages employee-related aspects of business operation.
Common Misconceptions About Co-Employment Relationships
There are a number of misconceptions about co-employment that exist because of pre-conceived notions about outsourcing in general. The most common is the belief that contracting with a PEO will result in a loss of control for the business owner. In reality, the structure of a co-employment relationship allows client owners to retain control over staffing and business decisions, while the PEO assumes certain employer responsibilities and risks. Many business owners also worry that their employees will not embrace the new arrangement, that workers will be considered temporary or non-permanent, or that their existing HR staff will be terminated. While these concerns are valid they are unwarranted. A co-employment relationship is administrative in nature and is beneficial to employees because it extends a greater depth and breadth of benefits and services than could typically be offered by the client owner alone. There is little, if any, disruption to existing employees when the relationship is established, and at no time is employee "leasing" involved in the agreement. Lastly, co-employers often align with existing HR departments to provide much-needed expertise in areas where they may fall short. The result is a stronger organization, and a better way of doing business.
A PEO does NOT
Control Your Business
PEOs provide access to seasoned HR professionals whose guidance and advice you can solicit when you need assistance. They help manage your company's employee-related administration and risks, but you maintain control of business and operational decisions.
Replace Your Internal HR Staff
PEOs align with your company's existing HR department or staff to provide complimentary expertise, such as support in administering workplace policies and making shifts in company culture. A good PEO will employ seasoned HR staff who are certified HR professionals who have experience with various industries, and as a PEO client, their expertise is at your disposal. This can prove invaluable when you're faced with complicated HR situations or workplace improvement initiatives, such as increasing employee engagement, addressing conflict effectively or developing compensation programs that connect to business goals.
Cause Disruption To Your Workplace
There is minimal, if any, disruption to employees when you work with a PEO. They will see the PEO's name on their paycheck and other documents, but will likely appreciate the greater depth and breadth of benefits offered as a result. In addition, some PEOs offer online self-service options that allow employees to access and manage their personal, benefits and paycheck information whenever they want.